Christian IV King of Denmark and Norway 1588-1648

Norway was united with Denmark for more than 400 years and during that period the countries had twenty or so regents. None of them had ever been honored or commemorated on stamps until 7 October 1988, when the time came to commemorate the fact that it was 400 years since Christian IV came to the throne of the Kingdom of Denmark and Norway.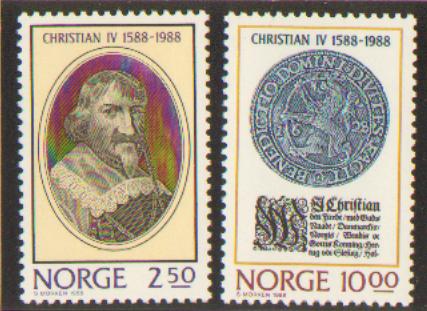 He was a popular king, and history and legends have given him a reputation which distinguishes him from the rest of the royal line. He was a warrior and king of the people. He had a physique and vigor which allowed him to lead an extremely active life.

Christian IV has a natural place On Norwegian anniversary stamps. He was the driving force behind Norway's development into an industrial country. He made a personal effort to gel to know Norway and the Norwegian people, and he saw the country's natural resources and recognized the potential that lay in the forests, watercourses and mountains.

He moved and founded towns. Tile art of printing came to Norway during his reign; he created a bureaucracy, a set of laws, an army organization and started a postal service. He is said to have visited Norway at least 20 times and on one occasion traveled as far north as Vardø on a naval visit to assert Danish-Norwegian sovereignty over the northern waters. This may have led to the fief of Varduhus remaining Norwegian in spite of Russian and Swedish interest and pressure.