Hammerfest, Norway

HAMMERFEST - THE MOST NORTHERLY TOWN IN THE WORLD Situated as it is 70° 39' 48" N, Hammerfest has no rivals for the title of the world's most northerly town. This has a special appeal for today's tourists. Large tourist ships are a familiar sight in the port. Hammerfest also has a small, but busy airport and the daily calls of the coastal steamer make the town easily accessible to the rest of the world.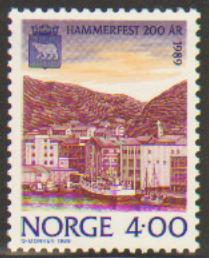 This urban community with 7,200 inhabitants on the edge of the inhabited world also has long international traditions. Trade with Russia and fishing in the Polar Sea made the town into a center which many major powers used as a base.

In 1795 the first Norwegian Polar Sea expedition left Hammerfest, opening up the Arctic areas for Norwegian commercial enterprise. For a time Hammerfest was possibly the most cosmopolitan town in Norway, doing trade with many parts of Europe. International tourism also has long roots here. Kings and emperors were frequent visitors and a good advertisement vis-â-vis the package tourists who started their trips to the Polar Sea by French, German and British tourist ships from Hammerfest as early as in 1885.

However, Hammerfest also has a dramatic past, including natural catastrophes and events that culminated in the town being completely razed to the ground during the German retreat in 1944. Out of these ruins a town has grown that has much to offer its inhabitants. It is an oil town, a fishing town, a cultural town and still: the world's most northerly town.