Vardø, Norway

Vardøhus Castle is closely bound up with the history of the town of Vardø. It was built in 1307 in defense against plunderers from the east. The great powers had cast their eye upon this area, and Vardø and Vardøhus played an important role in promoting Norway's interests in various conflicts.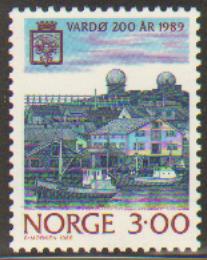 King Christian IV traveled north to Vardøhus in the 17th century for the specific purpose of asserting Danish-Norwegian sovereignty in the face of Swedish and Russian pressure. Vardøhus has been given some of the credit for the fact that this part of Finnmark still belongs to Norway.

Vardø's history reached a dramatic peak when it was razed during the German retreat in 1944. Not a stone was left standing. Vardø is still a bulwark against the east, an urban community of just over 3,000 people, a town based on fishing and fish processing. Once it was Norway's largest fishing station; today communications are good both by air and by sea.

In Vardø you will find a climate that is just as overwhelming as the town's situation by the Polar Sea; you will find a social environment that can only be fostered by such a situation, and you will find Northern Europe's longest submarine tunnel 88 metres below sea level. It links Vardø with the mainland, symbolizing that this 200-year old is still a buttress between Norway and the east.