FH105 Glade jul, hellige jul og Deilig er den himmel

There were notes from two well-known and beloved Christmas songs that would get adorn the Christmas cards in 1998. "Happy Christmas, Holy Christmas" is described as the world's Christmas Carol. It was written on Christmas Eve 1818 by Austrian priest Joseph Mohr, composed the music of his friend, organist Franz Gruber and premiered the same night the St. Nicholas Church in Oberstdorf. The song has been translated into virtually every language in the Christian world, and in 1850 the Danish / Norwegian by hymn poet Bernhard Severin Ingemann.
"Delicious is the sky blue" was written by the Danish priest and hymn writer Nikolai Frederik Severin Grundtvig, while today it is known version of the melody was composed by Jacob Gerhard Meidell.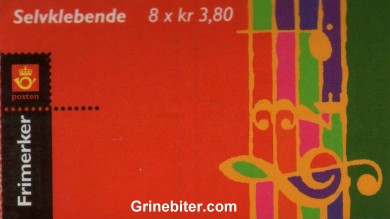 Frimerkehefte FH105
Issued 1998
Contains NK1346 and NK1347 Stamps


Normal Price: $22.00
Sales Price: $18.70




More Stamp Booklets
Flere Frimerkehefter



Norsk: Det var noter fra to kjente og kjære julesanger som skulle få pryde juleposten i 1998. "Glade jul, hellige jul" omtales som hele verdens julesang. Den ble skrevet julaften 1818 av den østerrikske presten Joseph Mohr, tonsatt av hans venn, organisten Franz Gruber og urframført samme natt i St. Nikolaikirken i Oberstdorf. Sangen er oversatt til så godt som alle språk i den kristne verden, og i 1850 til dansk/norsk ved salmedikteren Bernhard Severin Ingemann.
"Deilig er den himmel blå" ble skrevet av den danske presten og salmedikteren Nikolai Fredrik Severin Grundtvig, mens den i dag kjente versjonen av melodien er komponert av Jacob Gerhard Meidell.