BL6 Somalia

Somalia is one of Norwegian Red Cross' main partner. Somalia has received prolonged and extensive support in connection with disaster situations and long-term development. Norwegian Red Cross has been in Somalia since 1981 with the creation of a prosthetic workshop and rehabilitation center in Mogadishu. This work is still managed by the Somali Red Crescent with Norwegian support. The center was operational even during the war from 1991 to 1993.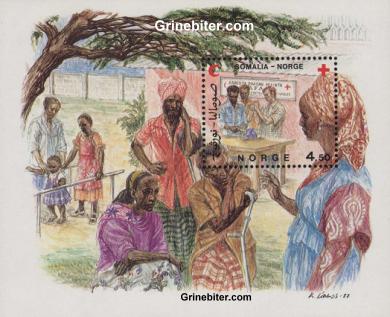 Miniatyrark BL 6 Somalia
Issued 1989
Contains 1 NK 1016 Stamp


Normal Price: $12.00
Sales Price: $9.95




More Miniature Stamp Sheets
Flere Miniatyrark



Norsk: Somalia er et av Norges Røde Kors' hovedsamarbeidsland. Landet har fått langvarig og omfattende støtte både i forbindelse med katastrofesituasjoner og langsiktig utviklingsarbeid. Norges Røde Kors har vært i Somalia siden 1981 med opprettelsen av et proteseverksted og rehabiliteringssenter i Mogadishu. Dette arbeidet drives fremdeles av Somalia Røde Halvmåne med norsk støtte. Verkstedet produserer proteser og lærer opp oropediteknikere og fysioterapiassistenter. Senteret var operativt også under krigen fra 1991 til 1993.