Phonecard Collection

Animals
Phonecards with different kinds of animals

Atlantis
Atlantis - The Lost Empire is on this phonecard collection.

Attractions
Nice attractions around Norway.

Birds
Norwegian Birds on Telenor Telekort.

Butterflies
Butterfly Phonecard Collection

Drawings
Drawings by famous artists.

Extreme Sports
Extreme Sport Phonecards

Fish
Fish and other creatures from the sea.

Fridtjof Nansen
Great Norwegian Explorer.

Norway Cup
World's largest soccer tournament for youth.

Olympics
Phonecards from the 1994 Lillehammer Olympics

Paralympics
Phonecards issued in connection with the Salt Lake 2002 Paralympics

Roald Amundsen
Great Polar Explorer.

Places
Places to visit in Norway.

Sports
Phonecards decorated with different sports

Stave Churches
Churches made more than 700 years ago.

Tom Ege
Collection of oilpaintings by Tom Ege.

Scenery
Nice sceneries from around Norway

Thor Heyerdahl
Explorer that crossed many oceans.

Telenor Telekort
The entire Telenor Telekort Phonecard collection.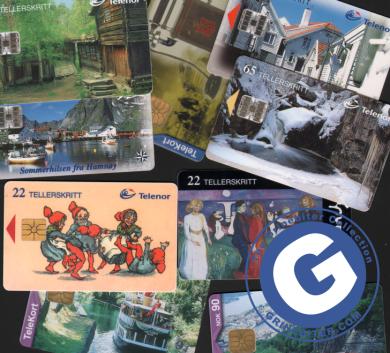 Telenor Telekort for sale. Get 10, 20, or 30 randomly picked Telenor Telekort. All phonecards will be different. Great way to expand your collection or start a new one.